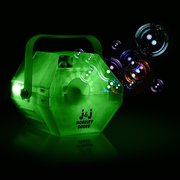 LED Bubble Machine by JJ
$25.00
LED Bubble Machine. Brilliant Multi Color Light Display with large Bubble Output Great for all kinds of parties.
Versatile - use it for indoor or outdoor events. Great for Parties, Dance Floors,, weddings, festivals or even your kids birthday party!!!
Use it at your next kids birthday party and see how much fun the kids have chasing the bubbles.