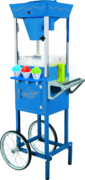 A Snow Cone Machine
$60.00
Bring a cool refreshing Snow Cone Machine To your next Puyallup event today. Serve your guests will the coldest, Tastiest Snow Cones around. Snow cones are a great treat to keep your guests cool. We provide the syrup and cones for up to twenty servings to your order. All you gave to provide is the ice. A good rule of thumb is a half pound of ice per snow cone. Need a water slide for your event - Our 18' Tropical Palm Tree Water Slide is a great addition to any tropical themed event or the perfect center piece for just about any party.
What better way to cool down kids enjoying a bounce house than a refreshing Snow Cone! Served from our Snow Cone Cart.
You supply the ice, we supply everything else.
A fun and tasty treat on a warm day or after a great time in one of our bounce houses.
A great way to satisfy ANY sweet tooth!
Includes 20 paper cones, 20 spoon straws, 3 syrup bottles & a metal ice scoop

Perfect for any party, fun-filled game rooms & more

Shaves two pounds of ice in 90 seconds

1 10lb bag of ice will make approximately 20 Snow Cones