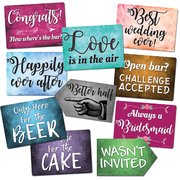 Wedding Prop Signs
$25.00

Are you renting our iPad Pro 10.5 Ring Light Photo Kiosk?
Make your photos more fun and memorable by adding a Prop Box Package to your order.
We have the largest selection of hats, glasses and other props in Pierce County.
It is the perfect addition for your event and provides that extra something special for all events.
Add our Wedding Prop signs to your order and add to the enjoyment of the wedding guests.
The package includes:
5 signs with 10 sayings