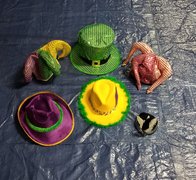 Marti Gras Hat Collection #2
Please call to reserve this item.

Are you renting our iPad Pro 10.5 Ring Light Photo Kiosk?
Make your photos more fun and memorable by adding a Prop Box Package to your order.
We have the largest selection of hats, glasses and other props in Pierce County.
It is the perfect addition for your event and provides that extra something special for all events.
Bring Marti Gras to your Washington event!
Our Marti Gras Carnival Hat Collection #2 features 5 High Quality hats for your guests to choose from.
Plus an paid attendent to assist with the props and the photo booth.